Our Annual Meeting was a BLAST!
Learners pictured:
Trang, Hung, and Leticia.
Confident Conversation Classes
In response to the pandemic, we have expanded our virtual "Confident Conversation" classes to five times a week, providing a great opportunity for English Second Language learners to develop the skills and confidence to succeed in their new community.
The pandemic "disconnected" many of our learners and tutors. One way that we addressed this problem was to bring our conversation classes online. They are so popular and effective that we will continue to provide these classes and have added weekly Zoom classes for students!
IN THIS ISSUE…
Making Tracks in Literacy
All Aboard for Flavors of Literacy
You can make a difference!
We have seen a significant increase in learners looking for assistance in preparing for their citizenship tests. Congratulations to Maria, Santiago, Christina, Mario, Matilde, and Alisha on passing the test, and best of luck to everyone studying! We are currently looking for funding to offer an in-person Citizenship Class in early 2022.
Not just an Annual Meeting
A Launch Party!
Every year, we invite you to join us at our Annual Meeting. This year, we decided to bring in our new fiscal year with a "Launch Party", celebrating our new website. We also introduced our new Program Coordinator, discussed programming, and so much more! Hope to see you at the next Annual Meeting!
"I am no longer worried about my own future, my career, or the future of my children. I believe I will be able to find a better job with a good command of English. Also, my children will be proud of their mother, who expresses herself fluently and comfortably. MLC volunteers by all means encourage me to do better things and to continue my career as a health worker. MLC is a remedy for non-native speakers of English. MLC approach not only contributes to American society but also makes the world for all better again"
"Since I joined the classes offered by Manatee Literacy Council, I have improved my English a lot, which boosted my confidence in interacting with others which gave me much more self-esteem.
I appreciate the hard work of everyone behind the class Zoom lenses.
My plan is, starting in 2022, I will do my part to contribute to my community. I am actively researching various local volunteer projects that I can participate. I look forward to sharing my work and experiences in future classes."
"Joining MLC has helped me to overcome the challenges of making mistakes. Having the class guide me moving to the right direction without getting lost and be truly enjoy this learning journey while also making progress is everything that I could ask for."
We're Making Tracks in Literacy!
We've hired a Program Coordinator courtesy of an Equity, Diversity, and Inclusion grant through the Community Foundation of Sarasota.
We've launched a new website that is more easily translatable for our ESL students and can be "listened" to for our native English-speaking learners. It also integrates with our new database, making data entry more efficient.
We've created and launched a virtual Tutor Certification Training program, with classes held most months.
We've increased our one "Pre-Covid" conversation class to five virtual "Confident Conversation" classes.
We are placing learners with their own tutors and our waiting list is lower than it has been in years!
We've replaced aging technology in our offices through a micro-grant from TechSoup, allowing us to use Zoom and work more efficiently.
Digital literacy classes and a book club are now available to learners and tutors.
A monthly "Tutor Tea" gives tutors an opportunity to brush up on skills and share ideas.
We partnered with BMO Bank to provide Financial Literacy classes to our learners.
We're launching an in-person ESL class at Rocky Bluff Library in January 2022.
We're providing weekly Workplace Literacy Classes in partnership with Goodwill.
We're looking forward to launching Citizenship and Family Literacy classes in 2022.
We're on track to make big changes in our
community! Come Aboard!
| | | |
| --- | --- | --- |
| | Save the Date | |
January 29th, 2022 Manatee Village Historical Park
This year's "Flavors of Literacy" event is outdoors, full of food, fun, and activities for all ages! Save the date and keep your eyes open for more information!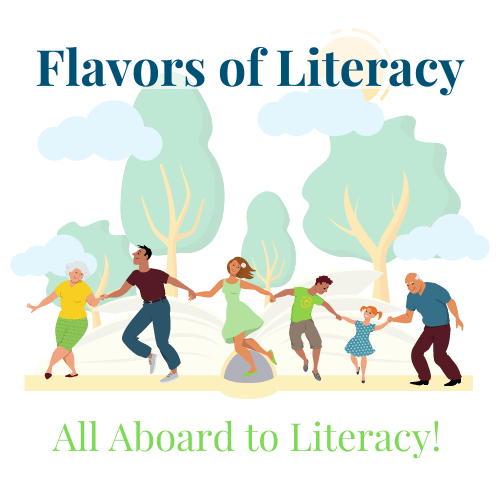 This year, the impact of COVID-19 in our community continues to hinder our ability to provide in-person learning. We are meeting this challenge through our virtual classes, tutoring, and training. We are working to add in-person Citizenship and Family Literacy classes in 2022. We continue to provide the literacy support that our community needs! Please consider helping us stay on track with a
personally meaningful donation!
A special thanks to our monthly givers, the
Literacy Legends
, who ensure that our services can continue without disruption.
$25 pays for 2 months of resources for one learner.
$50 supports one month of Conversation class.
$100 pays for 1 month of phone & internet access.
$350 pays for a year's worth of office supplies.
$500 pays for our printer lease for a year.
On a Personal Note
It's been just over a year since I've joined the Manatee Literacy Council. We should all be proud of this team that has accomplished so much during challenging times. I'm grateful for every volunteer, donor, and community member who has helped us not only overcome obstacles during COVID-19 but who has also helped us find new and exciting ways to meet the needs of our learners. I look forward to meeting you in person at our "Flavors Of Literacy" event in January and am excited about what 2022 has in store!
| | |
| --- | --- |
| P.S. Thank you to our anonymous Annual Appeal Sponsor! | Michelle Desveaux McLean Executive Director |