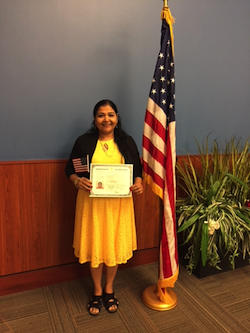 Surya
"I felt happy."
Surya, her husband, and son immigrated to the United States 18 years ago from India. A daughter was later born in the United States. Last summer, Surya, her husband, and son (now a doctor) applied for naturalization. In March 2018 they were called to Tampa for their naturalization test and interview. Surya said, "I was a little nervous. My officer was very nice to me. The test was very easy because I studied for six months." All three passed and were sworn in as U.S. Citizens on March 30, 2018. 

Surya meets with her Manatee Literacy Council tutor, Susan, two hours per week. She has had little formal education but is a devoted learner and does several hours of homework and practice each week outside of class. When asked how she felt about being sworn in as a citizen, Surya replied, "I felt happy. I was also nervous because it was a big thing. I also was proud." She is proud to be a U.S. Citizen and is excited about the changes in her command of the English language.
Ella
"My tutor never let me give up."
"In May 2011, my volunteer tutor and I began English lessons. I am a native Ukrainian/Russian speaker and an older adult student. Learning the English language was very difficult for me. My tutor never let me give up. She helped me learn English for the everyday skills I need to live in America. Now I am proud to be a U.S. citizen! We still continue with English class and have also become good friends as well." Citizen and is excited about the changes in her command of the English language."
David
"…the drive and desire to improve."
David began classes at Manatee Literacy Council in July 2016. His English skills were low, but he had the drive and desire to improve. He works a full-time job and meets with his tutor one evening a week. When David wanted to purchase his first car but was nervous about how it would affect his financial situation. He and his tutor spent part of a class working on a budget for him. After figuring revenue and expenses, David was relieved to see that he was in a good position to buy that car…and enjoy it! Recently, David was able to lease an apartment with a friend of his. 
Maria
 "I reading."
Maria is a beginning English-as-a-Second-Language (ESL) learner. Her tutor reports: "As we worked together, and she told me about her life, I realized her vocabulary needs went far beyond the Lauback Learning textbook. She has a sewing job but knew the words for needle, pin, pleat, waistband, etc., only in Spanish. I supplied the English words verbally and in writing, and she practiced them. The following week, I gave her a short story I had written about a pin that had a head and could think and a needle that had an eye and could see. She read it slowly and carefully to the end. Then, she looked at me, her brown eyes bright with wonder. 'I reading,' she said softly. Then, after a moment, 'I reading!'"
Lisbeth
"…trying to live my American dream."
Lisbeth came to the United States in 2011 from Peru, where she was a math teacher. She was frustrated by her inability to read and write in English, but waited more than a year to seek help. She found Manatee Literacy Council and was paired with a volunteer English tutor. After three months, she started feeling more confident in her English skills, and her world opened up dramatically. She set her sights on finding a job. Armed with her new English skills, she obtained a job at not-for-profit organization UnidosNow. Now she is "trying to live my American dream." She expresses her gratitude for Manatee Literacy Council volunteers: "It's important for these mentors to feel and to think that what they are doing is a life change."
Alifonso
"…they helped me to be a better person."
Alifonso came to the Unites States from Mexico. He struggled to read and speak English, relying on his wife to translate for him. After working with a tutor, Alifonso can speak with his boss, he can read the newspaper, and he gets better money for his work. Best of all, he can speak English with his children. In his words, "Manatee Literacy Council helped me a lot because they helped to improve my English, and they helped me to be a better person."

Karel
"I knew I had to learn English…"
Karel came to the United States three years ago from her native Venezuela, where she was an accountant. She knew very little English and was very nervous about going shopping or doing daily tasks. She says, "I knew I had to learn English because that is the spoken language in the United States, and if I wanted to succeed, I needed to learn it." On her own, Karel began to study using Rosetta Stone and also watching only American television and listening to American music.
In July 2015, Karel was matched with her tutor, Janice. At first, they were using a textbook, but it wasn't meeting Karel's needs. Janice devised various lessons that piqued Karel's interest; they used biographies and online information to improve comprehension. Karel enrolled in the Facial Specialist Program at Manatee Technical College in 2016. This changed the course of their studies. They spent about 70% of each class going over Karel's studies: skin care, waxing, facials, deep pore cleansing, make-up, and Florida law. This is an important role of the tutor—to determine the goals of the individual learners and to help them in their efforts to achieve their goals.
In July 2016, after completing the three-month program, Karel passed the Florida State licensing exam with a 98% score, done totally in English! She is now a registered Esthetician.
Brenda
"…helped her land a part-time job…"
Brenda is a Manatee Literacy Council office volunteer. In addition to volunteering, she started attending the weekly Conversation Class. Her improved conversation skills helped her land a part-time job at Marshall's at University Town Center. Her ideal job is to work as a translator for the Pittsburgh Pirates organization.